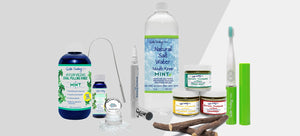 Now available on all products
Monthly Subscriptions
We love Dale Audrey because its Effective, Affordable & Natural.
Our Gum Health Care products contain no SLS, No Artificial Colors or Sweeteners, No Alcohol
Gum Health Care is of the utmost importance.
No animal testing are gluten-free and Non-HMO. Our formulas are the perfect blend of herbs and extracts that are high in Antibacterial, and Antiseptic properties to defend your oral health! 
Gum Health Care is directly associated with overall health and wellness.
---
PINK HIMALAYAN NATURAL SALT WATER RINSE
Regular price
$39.95
Sale price
$36.95
Save $3.00
---
* Professionally Formulated by Dale Audrey R.D.H.
This Helps to: 
* Fights & eliminate harmful bacteria count in your mouth & throat
* Helps with Gum inflammation & bleeding, promotes healing
* After enjoying Dale Audrey Ayurvedic pulling rinse, remove oil residue (if desired) with  Salt Water Rinse
* Our Hand Mined Pink Himalayan Salt Water Rinse Tastes Great

* Available in Fresh Mint or Cinnamon!
INGREDIENTS: Purified Water, Hand Mined Pink Himalayan Sea Salt, Organic Aloe Vera, Holy Basil, Oil of Oregano, Organic Flavors (From fruits, herbs & extracts)
NEVER ANY artificial colors, flavors or sweeteners, Non GMO, Gluten Free, Alcohol Free, BPA Free, Chemical Free * NEVER tested on Animals * Clinically Tested
Dale Audrey R.D.H.  Trusted since 1983
Ayurvedic Oral Pulling RInse w/ Nano Hydroxyapetite
Regular price
$37.95
Sale price
$27.95
Save $10.00
---
What is Nano Hydroxyapatite?  It is a naturally occurring  mineral that makes up 97% of our tooth enamel and 60% of your bones.  It has been proven to strengthen and protect your teeth without chemicals ( such as fluoride). 
 Hydroxyapatite was used in the 1970's. It was actually used  to help repair the teeth and bones of astronauts thought to be loosing minerals while in space. 
Today, you can achieve the benefits of this mineral, supporting teeth and bones,  and  it also provides minerals like  phosphate and calcium, which are essential for  remineralization of your teeth's enamel.
For best results: swish for 10 minutes and use with all Dale Audrey R.D.H. Natural Oral Care Products: