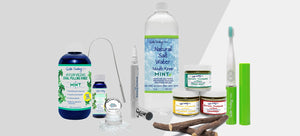 Now available on all products
Monthly Subscriptions
We love Dale Audrey because its Effective, Affordable & Natural.
All of our Tri-packs are Dale Audrey's most popular rinses. Our Award-Winning Ayurvedic Oral Pulling rinse is just more than an oil pulling rinse. It is based on the ayurvedic philosophy over 3,000 years old. Our formula is more modernized because it is not just sesame oil, it has herbs and extracts that are high in antibacterial and antiseptic properties, so if you do not swish for 20 minutes, for ayurvedic detox purposes, you will still have a benefit with Dale Audrey.
---
Sorry, there are no products in this collection.