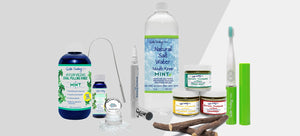 Now available on all products
Monthly Subscriptions
We love Dale Audrey because its Effective, Affordable & Natural.
Our professionally designed oral care tools to help keep your gums in Optimum health! Using our Oral Care Tools will make a big difference in your dental health. This includes our gum massager, quick sonic toothbrush. You will feel and notice a difference!
---
Dale Audrey ® R.D.H. Gum Massager "A Necessity for Healthy Gums"
Regular price
$9.95
Save $-9.95
---
Healthy gums are 

essential

 for a healthy oral environment and a better quality life; Using Dale Audrey Gum Massage Tip will help to promote optimum oral care by stimulating and firming gum tissue between teeth.
Where tooth brushing and flossing are just not enough, Dale Audrey Gum Massage Tip is easy to use, results are instantaneous and prolonged use will save thousands of dollars on unnecessary dental work and hours in the dental office.
The Gum Massage Tip is an integral part of optimum oral health, helping to strengthen the link to Whole Body Health
*** VIDEO INSTRUCTIONS BELOW*****
Change
Tip Replacements
monthly to ensure a healthy oral environment.
Dale Audrey® Gum Massager 
is the best way to achieve health gums!
 * Easy to use!
* Save $$$ on expensive gum treatments.
* Healthier gums in 3 days, Guaranteed!
Dale Audrey ® R.D.H - Intro Defense Dental Health Kit
Regular price
$45.99
Save $-45.99
---
The Intro Defense Dental Health Kit includes: Quik Sonic Toothbrush
2 - Bottles of Oral Pulling Rinse 1oz. (Fresh Mint + Cinnamon) and 1 Bottle Natural Salt Water rinse.
1- Gum Massage Tip 
1- Teeth Whitening Pen WHITE2NITE (Peppermint) 
1- NEW Quick Sonic Toothbrush (Pink in stock only at this time)     
*BONUS FOR A LIMITED TIME ONLY*
*1 Sample Mineralizing Mint Toothpaste and 1 Tongue Cleaner with Detox Serum.
A $12.95 Bonus Value Included