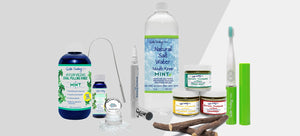 Now available on all products
Monthly Subscriptions
We love Dale Audrey because its Effective, Affordable & Natural.
Our professionally designed oral care tools to help keep your gums in Optimum health! Using our Oral Care Tools will make a big difference in your dental health. This includes our gum massager, quick sonic toothbrush. You will feel and notice a difference!
---
Dale Audrey ® R.D.H - Intro Defense Dental Health Kit
Regular price
$45.99
Save $-45.99
---
The Intro Defense Dental Health Kit includes: Quik Sonic Toothbrush
2 - Bottles of Oral Pulling Rinse 1oz. (Fresh Mint + Cinnamon) and 1 Bottle Natural Salt Water rinse.
1- Gum Massage Tip 
1- Teeth Whitening Pen WHITE2NITE (Peppermint) 
1- NEW Quick Sonic Toothbrush (Pink in stock only at this time)     
*BONUS FOR A LIMITED TIME ONLY*
*1 Sample Mineralizing Mint Toothpaste and 1 Tongue Cleaner with Detox Serum.
A $12.95 Bonus Value Included
THE BASICS - Pull & Paste
Regular price
$29.90
Sale price
$27.00
Save $2.90
---
The Basics include:
1 -8oz. Ayurvedic Oral Pulling Rinse

1- 3.25oz. Ayurvedic Mineralizing Toothpaste 
SAVE 10 % on our popular paired products.
Ingredients: Ayurvedic Oral Pulling Rinse:
Ingredients:  Organic Sesame Oil, Sunflower Oil, Olive Oil, Clove Bud OIl, Organic Neem Seed Oil, Organic Flavors, Myrrh Oil, Organic Oregano Oil, Organic Pomegranate Extract.
Mineralizing Toothpaste: Calcium Carbonate, Bentonite Clay,  Neem (Azradiritchata Indica), Amla (emblic myrobolon) Myrrh ( Commiphora Myrrha),Oregano Oil ( Thymus capialus), Organic Pomegranate Oil ( Punica Granatum), Organic Chlorella (chlorella pyrenoidosa), Organic Tumeric (curcumalonga), Organic Ginger (Zingiber Officinale), Organic Bilberry (Vaccinium Myrtillus), Organice Hawthrone Berry ( Crateagus oxycanthus), Organic Licorice Root (Glycyrrhiza Glavral), Organic Flavor.
QUICK SONIC FAMILY 4 PACK
Regular price
$79.80
Sale price
$59.85
Save $19.95
---
Buy 3 get 1 FREE!!!!
Take care of the entire family and even your pet, or share a smile with a friend!
Now purchase our NEW 4 pack and get one Quick Sonic Absolutely Free!
Great for travel, home, children, adults & seniors.
28,000 sonic brush strokes per minute, battery operated, gum recession proof!
( Assorted colors- Blue, Green, White & Pink)