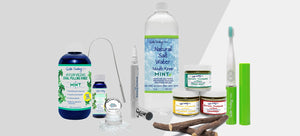 Now available on all products
Monthly Subscriptions
We love Dale Audrey because its Effective, Affordable & Natural.
Our Natural Mouthwash is 100% Chemical Free and Non-Toxic
Our Oral Pulling Rinses, Natural Salt Water RInses & Natural Mouthwashes are made with Natural & Organic Ingredients. Using A Natural Mouthwash will not change the ph and natural flora in your mouth. 
So many mouthwashes are made with many chemicals and are harmful if swallowed, Our Natural Mouth Wash is perfect for any age. And not harmful if swallowed.
Great-Tasting Organic Flavors: Mint, Cinnamon, Ginger and Bubble Gum. 
Non-GMO, Never any animal testing, Gluten-Free, BPA Free, Vegan
And Never tested on Animals!
Glass options available.
---
PINK HIMALAYAN NATURAL SALT WATER RINSE
Regular price
$39.95
Sale price
$36.95
Save $3.00
---
* Professionally Formulated by Dale Audrey R.D.H.
This Helps to: 
* Fights & eliminate harmful bacteria count in your mouth & throat
* Helps with Gum inflammation & bleeding, promotes healing
* After enjoying Dale Audrey Ayurvedic pulling rinse, remove oil residue (if desired) with  Salt Water Rinse
* Our Hand Mined Pink Himalayan Salt Water Rinse Tastes Great

* Available in Fresh Mint or Cinnamon!
INGREDIENTS: Purified Water, Hand Mined Pink Himalayan Sea Salt, Organic Aloe Vera, Holy Basil, Oil of Oregano, Organic Flavors (From fruits, herbs & extracts)
NEVER ANY artificial colors, flavors or sweeteners, Non GMO, Gluten Free, Alcohol Free, BPA Free, Chemical Free * NEVER tested on Animals * Clinically Tested
Dale Audrey R.D.H.  Trusted since 1983
Tongue Serum tm 2 oz.
Regular price
$10.95
Save $-10.95
---
Tongue Serum  tm
*Promotes Fresh Breath
*Used with Dale Audrey Tongue Cleaner
*Natural Mint, NON GMO, Vegan, Never tested on Animals.
Ingredients: 
Organic Sesame oil, Neem, clove, pomegranate extract, oregano oil, amla, organic flavor.