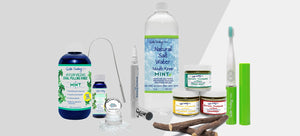 Now available on all products
Monthly Subscriptions
We love Dale Audrey because its Effective, Affordable & Natural.
Our Natural Mouthwash is 100% Chemical Free and Non-Toxic
Our Oral Pulling Rinses, Natural Salt Water RInses & Natural Mouthwashes are made with Natural & Organic Ingredients. Using A Natural Mouthwash will not change the ph and natural flora in your mouth. 
So many mouthwashes are made with many chemicals and are harmful if swallowed, Our Natural Mouth Wash is perfect for any age. And not harmful if swallowed.
Great-Tasting Organic Flavors: Mint, Cinnamon, Ginger and Bubble Gum. 
Non-GMO, Never any animal testing, Gluten-Free, BPA Free, Vegan
And Never tested on Animals!
Glass options available.
---