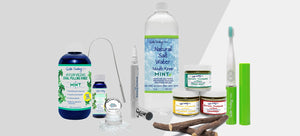 Now available on all products
Monthly Subscriptions
We love Dale Audrey because its Effective, Affordable & Natural.
is an ancient Ayurvedic Philosophy that dates back to over 5,000 years. 
The Ayurvedic's ( those who practice eastern Indian medicine) Traditionally use Sesame oil, ( not coconut oil), to swish in their mouths for up to 20 mins, to help detoxify and "pull" toxins from the body. 
---
Ayurvedic Pulling Rinse Refill Pouch 16oz with Cobalt Glass Bottle and Pump
Regular price
$32.95
Save $-32.95
---
A swish a day, keeps the Dentist away!
Dale Audrey® Ayurvedic  Pulling Rinse combines the ancient Ayurvedic philosophy with todays natural science. It is the Ayurvedic belief that while swishing the oil on a daily basis it will "detoxify" and "pull" toxins from the body.
Dale Audrey® Ayurvedic  Pulling rinse is a modernized version of Oil Pulling, professionally formulated with the perfect blend of oils and extracts. 
Our proprietary formula, using Neem, Myrrh and Clove bud oil, with vitamins and herbs will leave your breath, teeth and gums invigorated for hours!
                                  Benefits Of Dale Audrey Pulling Rinse
                                  *Whitens Teeth
                                  *Helps Dry Mouth
                                 * Helps freshen breath
                                 * Strengthens Teeth and Gums & Jaw
                                 * Helps to keep mouth clean
Dale Audrey Regime: Pour & Swish 1/5 teaspoons of Dale Audrey Pulling Rinse.
Swish: 30 seconds- 2 minutes for an amazing cleanse
Swish: 3-5 Minutes for a deeper more thorough cleanse.
Swish: 20 Minutes for the ultimate detox ( Ayurvedic Philosophy)
Expectorate ( spit out) SINK SAFE !! No worries....
                         * Not harmful if swallowed
Most mouth rinses on the market are like perfumes, after a few minutes the effects are gone. Dale Audrey® Ayurvedic Oral Pulling Rinse is a cleansing treatment, which leaves your mouth feeling fresh all day long!"




 Ingredients:  Organic Sesame Oil, Sunflower Oil, Olive Oil, Clove Bud OIl, Organic Neem Seed Oil, Organic Flavors, Myrrh Oil, Organic Oregano Oil, Organic Pomegranate Extract.

* Chemical Free, No artificial colors, sweeteners or flavors, Non GMO, Gluten Free,
Alcohol Free, Vegan, Never any animal testing.
Clinically Tested

Dale Audrey R.D.H.
Copyright oral fitness inc.2007