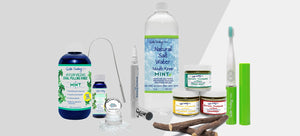 Now available on all products
Monthly Subscriptions
We love Dale Audrey because its Effective, Affordable & Natural.
PINK HIMALAYAN NATURAL SALT WATER RINSE
Regular price
$39.95
Sale price
$36.95
Save $3.00
---
* Professionally Formulated by Dale Audrey R.D.H.
This Helps to: 
* Fights & eliminate harmful bacteria count in your mouth & throat
* Helps with Gum inflammation & bleeding, promotes healing
* After enjoying Dale Audrey Ayurvedic pulling rinse, remove oil residue (if desired) with  Salt Water Rinse
* Our Hand Mined Pink Himalayan Salt Water Rinse Tastes Great

* Available in Fresh Mint or Cinnamon!
INGREDIENTS: Purified Water, Hand Mined Pink Himalayan Sea Salt, Organic Aloe Vera, Holy Basil, Oil of Oregano, Organic Flavors (From fruits, herbs & extracts)
NEVER ANY artificial colors, flavors or sweeteners, Non GMO, Gluten Free, Alcohol Free, BPA Free, Chemical Free * NEVER tested on Animals * Clinically Tested
Dale Audrey R.D.H.  Trusted since 1983