Ayurvedic Toothpaste & Toothpowder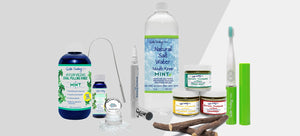 Now available on all products
Monthly Subscriptions
We love Dale Audrey because its Effective, Affordable & Natural.
Our Ayurvedic Toothpaste and Powders are the perfect blends of herbs and extracts, enamel-safe & is great for sensitive teeth!
Using them makes you feel like you had a professional dental cleaning.
NON-GMO, Gluten-Free, SLS Free, Fluoride Free, Never tested on animals! 
---
Ayurvedic Mineralizing Toothpaste w/ Nano Hydroxyapetite
Regular price
$37.95
Sale price
$27.95
Save $10.00
---
Now offering our Ayurvedic Mineralizing Toothpaste with extra power!!! Try our Nano-Hydroxyapatite, it won't dissapoint.
 Do you have sensitive teeth? Want to protect and strengthen the enamel? 
Nano Hydroxyapatite is the natural non toxic way.
It already makes up approx. 97% of your teeth's enamel and 80% of the dentin. ( which is the underlying structure found under the enamel. When you brush and swish with these particles, they actually begin to bond to the teeth's structure allowing the remineralization process!
So try it today! in our beautiful glass jar! You just need a little scoop of our concentrated formula. 
* For best Results use with Dale Audrey New Oral Pulling Rinse with Nano-Hydroxyapatite!
QUICK SONIC FAMILY 4 PACK
Regular price
$79.80
Sale price
$59.85
Save $19.95
---
Buy 3 get 1 FREE!!!!
Take care of the entire family and even your pet, or share a smile with a friend!
Now purchase our NEW 4 pack and get one Quick Sonic Absolutely Free!
Great for travel, home, children, adults & seniors.
28,000 sonic brush strokes per minute, battery operated, gum recession proof!
( Assorted colors- Blue, Green, White & Pink)