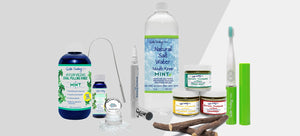 Now available on all products
Monthly Subscriptions
We love Dale Audrey because its Effective, Affordable & Natural.
NEW Full Spectrum, Organically Grown, 0.0 THC Pet Breath Spray, Natural Bacon Flavor 4 oz.
A pet with fresh breath is a healthier Pet!
Spray on teeth or Use with our Quick Sonic Toothbrush for better results!
---
Dale Audrey ® R.D.H. Ayurvedic Dental Spray
Regular price
$16.95
Save $-16.95
---
Dale Audrey®  Ayurvedic oral spray for pets,  is a gentle cleanser for your pets teeth and gums. Dental Care is so important for pets!
Made with the finest ingredients and without harsh chemicals.  Simple to use, spray on application, massage on gum line and brush teeth. Use daily for Optimum Dental Health! Available in Natural Chicken and Natural Beef Flavors.
INGREDIENTS: Organic Sesame Oil, Organic Saflower Oil, Clove Bud Oil, Aloe Vera, Vitamin E, Olive Oil, Neem, Myrrh, COQ10, Natural Flavors. (from herbs, fruit & extracts)
NO MSG...
Dale Audrey R.D.H. Pet Package Breath Spray and Toothbrush
Regular price
$33.99
Sale price
$26.99
Save $7.00
---
Change product photo
Dale Audrey ® Ayurvedic Neem Chew Sticks For Pets
Regular price
$9.95
Save $-9.95
---
Dale Audrey ® Ayurvedic chew sticks for Pets
All Natural Treat
Helps clean teeth and freshens breath naturally!
No Artificial sweeteners or Flavors!
Dogs love them!