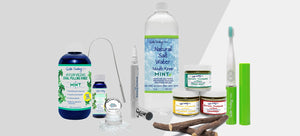 Now available on all products
Monthly Subscriptions
We love Dale Audrey because its Effective, Affordable & Natural.
Try our Ayurvedic Bubble gum flavor or our quick sonic toothbrush today!
---
QUICK SONIC FAMILY 4 PACK
Regular price
$79.80
Sale price
$59.85
Save $19.95
---
Buy 3 get 1 FREE!!!!
Take care of the entire family and even your pet, or share a smile with a friend!
Now purchase our NEW 4 pack and get one Quick Sonic Absolutely Free!
Great for travel, home, children, adults & seniors.
28,000 sonic brush strokes per minute, battery operated, gum recession proof!
( Assorted colors- Blue, Green, White & Pink)