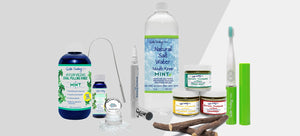 Now available on all products
Monthly Subscriptions
We love Dale Audrey because its Effective, Affordable & Natural.
Try our Ayurvedic Bubble gum flavor or our quick sonic toothbrush today!
---
Ayurvedic Oral Pulling RInse w/ Nano Hydroxyapetite
Regular price
$37.95
Sale price
$27.95
Save $10.00
---
What is Nano Hydroxyapatite?  It is a naturally occurring  mineral that makes up 97% of our tooth enamel and 60% of your bones.  It has been proven to strengthen and protect your teeth without chemicals ( such as fluoride). 
 Hydroxyapatite was used in the 1970's. It was actually used  to help repair the teeth and bones of astronauts thought to be loosing minerals while in space. 
Today, you can achieve the benefits of this mineral, supporting teeth and bones,  and  it also provides minerals like  phosphate and calcium, which are essential for  remineralization of your teeth's enamel.
For best results: swish for 10 minutes and use with all Dale Audrey R.D.H. Natural Oral Care Products:
QUICK SONIC FAMILY 4 PACK
Regular price
$79.80
Sale price
$59.85
Save $19.95
---
Buy 3 get 1 FREE!!!!
Take care of the entire family and even your pet, or share a smile with a friend!
Now purchase our NEW 4 pack and get one Quick Sonic Absolutely Free!
Great for travel, home, children, adults & seniors.
28,000 sonic brush strokes per minute, battery operated, gum recession proof!
( Assorted colors- Blue, Green, White & Pink)