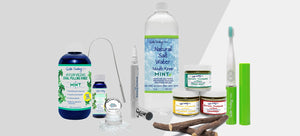 Now available on all products
Monthly Subscriptions
We love Dale Audrey because its Effective, Affordable & Natural.
Now You can save on All of our Oral Health Bundles. 
Himalayan Salt Water Rinse has many benefits!
It is used to remove oil residue after oil pulling or by itself for tooth mineralization, gum disease prevention, to help alleviate pain after a dental procedure and even for sore throats! It sill help build a ph neutral mouth flora protecting your teeth and gums! Try it and save buying our Oral Health Bundles
We use the finest ingredients: Purified Water,  Hand Mined Himalayan Pink Sea Salt, Organic Aloe Vera, Holy Basil, Oil Of Oregano, Organic Flavors.
---