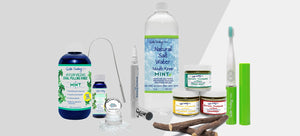 Now available on all products
Monthly Subscriptions
We love Dale Audrey because its Effective, Affordable & Natural.
Ayurvedic Oral Pulling RInse w/ Nano Hydroxyapetite
Regular price
$37.95
Sale price
$27.95
Save $10.00
---
What is Nano Hydroxyapatite?  It is a naturally occurring  mineral that makes up 97% of our tooth enamel and 60% of your bones.  It has been proven to strengthen and protect your teeth without chemicals ( such as fluoride). 
 Hydroxyapatite was used in the 1970's. It was actually used  to help repair the teeth and bones of astronauts thought to be loosing minerals while in space. 
Today, you can achieve the benefits of this mineral, supporting teeth and bones,  and  it also provides minerals like  phosphate and calcium, which are essential for  remineralization of your teeth's enamel.
For best results: swish for 10 minutes and use with all Dale Audrey R.D.H. Natural Oral Care Products:
AYURVEDIC PULLING RINSE W/ PUMP - SUPER GALLON SIZE
Regular price
$175.00
Save $-175.00
---
The most economical & sustainable way to swish daily and stay healthy. Refill our glass bottles and keep on the counter! You don't have to count pennies anymore! 
Our Ayurvedic Pulling rinse in Gallon Size is Available in our 4 Flavors. (Mint, Cinnamon, Ginger & Bubble Gum). 
Enjoy our Free Shipping!!! 

"
A swish a day keeps the Dentist Away
" TM
Dale Audrey® Ayurvedic  Pulling Rinse is based on the Ayurvedic belief that swishing the oil on a daily basis it will "detoxify" and "pull" toxins from the body. 
Dale Audrey® Ayurvedic Pulling Rinse
is a modernized version of Oil Pulling using a blend of Oils enhanced with 
Neem, Myrrh and Clove bud oil that contains
 antibacterial and antiseptic properties. Provides All day relief!
Great for:

-Teeth whitening and bad breath
-Strengthening (teeth, gums, and jaw)
-Prevents plaque build up and tooth decay
-Fights sores and cracked lips
-Improves dry mouth


Directions use one -

 

two teaspoons, swish vigorously throughout entire mouth (pushing and pulling between teeth and gums). Can be used up to 20 mins or less. Dispose down drain. 
Ingredients:  Organic Sesame Oil, Sunflower Oil, Olive Oil, Clove Bud OIl, Organic Neem Seed Oil, Organic Flavors, Myrrh Oil, Organic Oregano Oil, Organic Pomegranate Extract.
***Not Made with Water, ALCOHOL, SLS or any harsh chemicals, No Animal Testing, Not harmful if swallowed.***