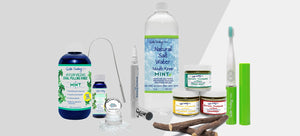 Now available on all products
Monthly Subscriptions
We love Dale Audrey because its Effective, Affordable & Natural.
All of Dale Audrey R.D.H. Natural Oral Care products are made with over 35 years of clinical dental hygiene experience. We are passionate about providing the most natural, effective and affordable home care products. 
Feel Free to browse all Oral Care Products, and please let us know if you have any questions or have any specific allergies.
We are here to help with all Oral Care Products.
---
QUICK SONIC FAMILY 4 PACK
Regular price
$79.80
Sale price
$59.85
Save $19.95
---
Buy 3 get 1 FREE!!!!
Take care of the entire family and even your pet, or share a smile with a friend!
Now purchase our NEW 4 pack and get one Quick Sonic Absolutely Free!
Great for travel, home, children, adults & seniors.
28,000 sonic brush strokes per minute, battery operated, gum recession proof!
( Assorted colors- Blue, Green, White & Pink)